Neighboring is an initiative birthed by South Carolina Baptists to share hope with those in closest vicinity to us, but far from God. What does it look like to love your neighbor? The focus is to pray, care, and share.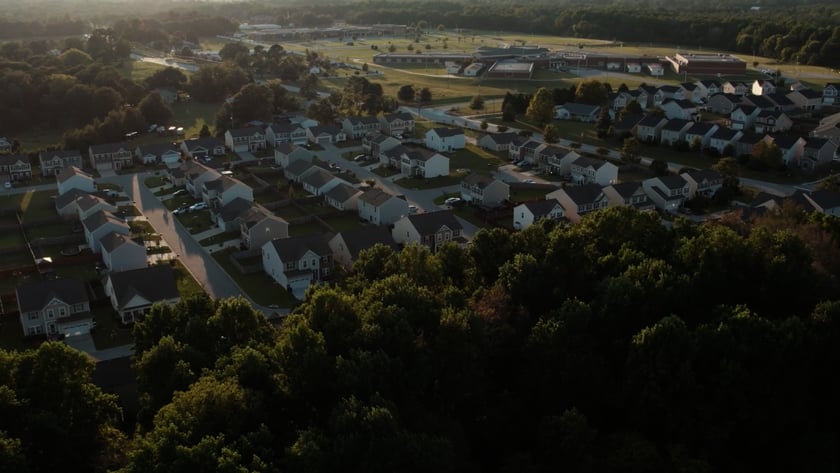 "Prayer isn't just preparation for the work. Prayer IS the greater work."
- Oswald Chambers
- Map your neighborhood to pray for each neighbor by name.
- Prayer walk your neighborhood.
- Ask God to show you the needs of your neighbors.
- Care for a local school through Heart4Schools.
- Start a holiday tradition for your neighbordhood by hosting a Christmas or Easter gathering.
- Host front yard cookouts or picnics.
- Pick one person far from God who needs to hear the gospel.
Neighboring leads to life transformation for you and your community.
A grieving widow who builds a friendship with her neighbor across the street.
This friendship gives both a new purpose and fresh hope.
Sorry, we couldn't find any posts. Please try a different search.
We now live in a culture where front porches are smaller,and back decks are larger. How do we reach a society that values solitude over relationships?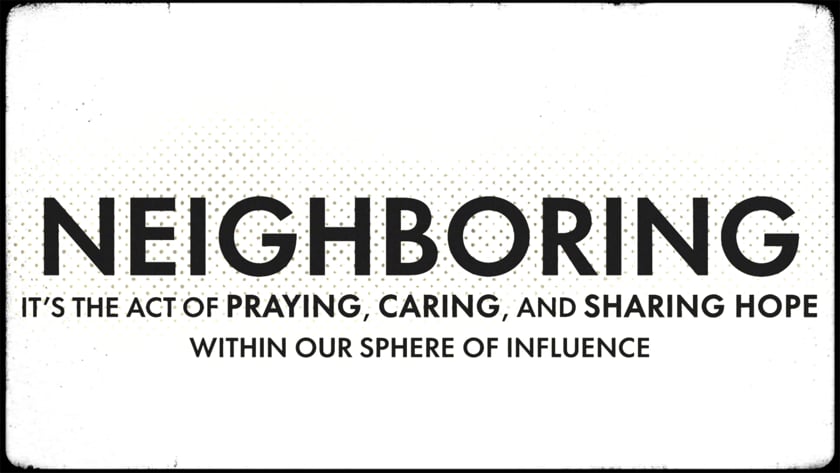 Neighboring is the act of praying for, caring for, and sharing Christ within your sphere of influence. In "The Art of Neighboring," the authors tell of a city leader who met with them and a group of pastors in Denver to discuss why neighboring matters. The city leader said that "from the city's perspective, there is not a noticeable difference in how Christians and non-Christians neighbor" in their community. This was the moment that shook these authors. This should shake us, as well, because this is not what Jesus intended when He said to "love your neighbor as yourself" in Matthew 22:37-39. According to the city leader, Christians are not loving their neighbor well.
Your sphere of influence consists of your family, coworkers, neighbors, and friends.  The "321 Go" worksheet is an excellent tool used to determine who is within our sphere of influence. 
Matthew 28:19-20 "Go therefore and make disciples of all the nations, baptizing them in the name of the Father and of the Son and of the Holy Spirit, teaching them to observe all things that I have commanded you; and lo, I am with you always, even to the end of the age." Neighboring perfectly fits in with the call of the Great Commission because we are being asked to go and make disciples. Some people may be called to go across the ocean to share the Gospel, while others may be called to simply go across the street. I believe we are called to do both. Even IMB missionaries are expected to be actively sharing the Gospel before they ever step foot outside their hometown. God is strategic with His people. He has placed you within your specific mission field, whether that be your neighborhood, school district, grocery store, or even local restaurants.   
Begin with prayer.
We know that every movement of God begins with prayer. There is an excellent resource called www.blesseveryhome.com that you can use as a home group or an individual that will help you begin to know the names of your neighbors and to start praying for them.
Learn your neighbors' names.
You may live in a large neighborhood, so do not feel pressured to learn all their names at once. Start with one!
Walk in your neighborhood.
This is not only good exercise, but it will also make you visible and give you an opportunity to stop and chat with your neighbors. This will enable you to hear stories and start having meaningful conversations. 
Notice, ask good questions, and listen.
(Adapted from the 9 Arts of Spiritual Conversations)
Notice.
Pay attention. It's easy to be in our own world and miss things going on around us, but it is essential to open our eyes to happenings around us.
Ask good questions.
When you think of the word curiosity, what comes to mind? Curiosity is not a bad thing. Our society can label it as being nosy or intrusive, so we may keep our thoughts to ourselves. On the other hand, asking questions can make a person feel seen and important. It is okay to ask questions because it shows interest and priority.
Listen.
James 1:19 says, "My dear brothers and sisters, take note of this: Everyone should be quick to listen, slow to speak, and slow to become angry." Listening well is a skill that must be developed. Have you ever been talking with someone and you could tell they weren't listening? How did that make you feel? Good listening communicates love and is a powerful tool for healing.
Learn how to share the Gospel conversationally. 
Use the 3 Circles method by Jimmy Scroggins. Click here to access a quick video on this method.
Conversation will remain shallow if you are not intentional in deepening it. Deep conversations will not happen right away. As you spend time with others and have longer conversations, more opportunities will arise to ask deeper questions which can cause conversations to naturally change to a spiritual matter. The key here is intentionality and being vulnerable with others. If we are not intentional, these conversations will not happen. If we are not vulnerable first, others will not feel safe to share. 
As you build a friendship with your neighbor, you can invite them over for a meal, a bonfire, or to watch a game. Doing something fun together will deepen trust and give you more opportunities for conversation.
Allowing insecurities to keep us inside our bubble.
Example: I've lived here for five years and don't know my neighbors' names.
Not adjusting the busyness in our lives to make space for neighboring.
Dave and Jay in the "Art of Neighboring" identify several harmful lies that we believe that seem harmless but can wreak havoc on our lives:
Lie #1: Things will settle down someday.
Lie #2: Everybody lives like this.
Motive matters.
Neighboring is more of a Crock-Pot approach rather than an Instant Pot approach. If you jump the gun, they will think you care more that they join the church than join the kingdom of God.
Not forgiving.
If you live in a neighborhood long enough, there will be disagreements. If you let those disagreements simmer for too long, they will eventually cause a fire. The ability to forgive is key to relationships.
Have questions? Want to learn more?
Contact Melanie Ratcliffe at [email protected] or call 803.227.6123
Contact The Neighboring Team
"*" indicates required fields