SUMMIT will be like no other camp, conference, or retreat they've experienced.
  Every church will appoint four students that display the greatest Christian character and strongest influence to attend.   The synergy of collaborating with the most highly focused leaders in our state will inspire your student to the greatest possible impact in their school, in their community, and in the world.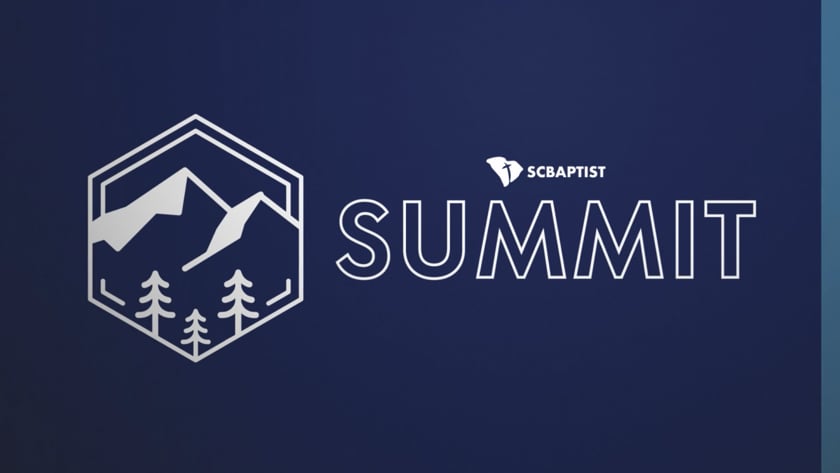 Every SCBC Church can appoint 4 students to attend Summit.   Qualifications include: 
Must be 15 years or older by Dec 29th, 2022.  

Must have professed Christ as Savior and display strong Christian disciplines and character 

Must be a member or regular attender of your SCBC church 

Is considered a leader or potential leader in your student ministry

(Optional) Has expressed a call to ministry  
Scarcity breeds clarity, we want you to send your absolute best.  Also space is limited due to the breadth of the event.  Start with your Seniors and work down.  If you have more than 4 Seniors that should attend, please contact us.  
The Send Team of the SCBC is hosting this event.  Speakers and trainers will be hand selected from the SCBC, NAMB, and the IMB.   Students will be placed into "Cadres" led by College students in the Palmetto Collective.  
A portion of Summit will be an Evangelism Intensive Training.   Students will be given the tools needed to be able to share their faith confidently with their peers.   We are taking them to Carowinds to practice what they've learned.   The goal is not the ride; the goal is the line.   In a contained and safe environment like Carowinds, students, in small groups, will be charged with sharing their faith with as many people as possible.  
Your students will be exposed to the urgency of the Great Commission and the great need for missionaries and Kingdom leaders across our nation and the world.  Field experts from NAMB and the IMB will expose your students to the multitude of opportunities that await them after high school.
Your students will be challenged and trained to take everything they learn back to your church for multiplied impact.  Stand ready to give them opportunities to speak and lead your student ministry to reach your community.  
No.  Summit is a drop-off event. Our staff and Palmetto Collective students will guide them the entire time they are with us. Student pastors and parents are welcome to come and observe at any time, but we will not have the bed space available for you to stay overnight.
All leaders and staff, including Palmetto Collective students, have been screened with an updated background check and all have a clean history for your student's safety.  All SCBC child safety regulations will be in place.  
The cost of Summit upon acceptance is $99. This price includes:
All training, experiences, and swag.  
Lodging for three nights.
All meals: Dinner on December 29-Breakfast on January 1
Carowinds admittance and transportation to and from the park.    
Students are expected to participate in the entire event.  If a student is not able to attend the entire event, please consider giving the spot to a student that can attend entirely. Transport to and from Camp Lavida is the responsibility of the church or parents.  Drop-off is between 3 pm - 5 pm. Pick up at Noon.
"*" indicates required fields